High Protein Foods After Bariatric Surgery:
You've Got Options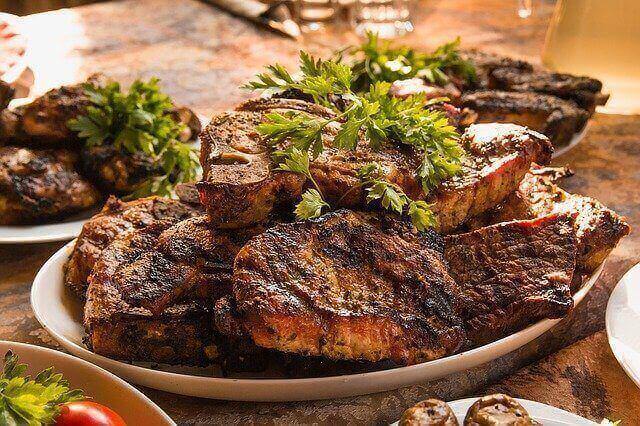 These are the best high protein bariatric foods appropriate for a diet after you've had weight loss surgery. You may only think of beef when you think of protein, but there are plenty of options.
While many foods contain small amounts of protein, the high protein bariatric foods listed here are the most concentrated sources of protein. That means you get the most protein bite for bite. When you can't eat very much, it's important to pack in the most nutrition in the smallest volume. 
Bariatric Protein Foods: 
Yogurt
Cottage Cheese
Bean Soups 
Whole Beans 
Tuna, Canned chicken, Canned salmon
Eggs
Fish/Seafood 
Vegetarian Proteins
Ground turkey, Ground chicken 
Chicken
Pork
Beef
High Protein Bariatric Foods
Leanest Choices:
Dairy: Nonfat or Low-fat, Lite, Reduced Fat, 2%
Greek yogurt
Cottage cheese
String cheese
Sliced cheese
Shredded cheese
Beans and Lentils
Beans often get thrown under the bus because of their carbohydrates. But don't let their carb count scare you.  Beans are a source of protein and quality carbs. They're worth eating to get the protein and fiber.
Fiber is only found in plant foods, so the other high protein bariatric foods (animal sources of protein) don't provide any fiber.
High protein diet + no/low fiber is a quick path to constipation!
Black
Black eyed peas
Cannellini
Edamame (soybeans)
Garbanzo
-OR_
Great Northern
Kidney
Lentils
Navy
Pinto
White Beans


Soups:
Black bean soup
Lentil soup
Split pea soup
Eggs (Pasture Raised if possible)
Whole eggs
Egg whites
Egg substitute
Fish/Shellfish
Cod
Flounder
Haddock
Halibut
Red snapper
-OR_
Tilapia
Trout
Tuna, water packed
Salmon
Sardines
Shellfish:
Crabs, Lobster, Scallops, Shrimp
Vegetarian Proteins
Tofu (organic when possible)
Tempeh (organic when possible)
Seitan
Poultry (Organic when possible)

Chicken beast, no skin
Turkey breast, no skin
Ground chicken (93/7%, 90/10%)
Ground turkey (93/7%, 90/10%)
Pork
Canadian bacon
Lean ham
Pork tenderloin
Center loin chop
Beef (Grass fed when possible)
Ground beef (93/7%, 90/10%)
Tenderloin
Roast  (rib, chuck, rump)
Steak (t-bone, cubed, flank, porterhouse, sirloin, round)
Deli Meats/Processed Meats (Use less often)
Low sodium Turkey, Ham, Roast beef
Jerky: Beef, Turkey, Salmon
A bariatric diet is high in protein: 60-80 grams per day is typically recommended.
Liquid--> Mushy-->Solid
These high protein bariatric foods are best tolerated when introduced in the following order in the early post op period: 

Protein shakes
Plain Greek yogurt
Cottage cheese
Bean Soup 
Beans 
Then:
Tuna
Canned chicken
Canned salmon
Eggs
Fish 
Vegetarian Proteins (tofu, tempeh, seitan)
Ground turkey, ground chicken 
Next:
High Protein Bariatric Foods:
Stage by Stage
Here you can see how to progressively add high protein bariatric foods as you advance through the post op diet stages early on after surgery.

Bone Broth
Clear Protein Drinks/Protein Waters like Premier Clear, Atkins Lift, Isopure
Liquacel 
Any food from previous stage plus:
Protein Shakes (Ready made or homemade)
Fairlife milk (use nonfat/skim or 2%)
Skim/fat free milk, low fat milk
Any food from previous stages plus:
Plain nonfat Greek yogurt
Nonfat/low-fat cottage cheese
Blended fat free refried beans
Crushed lentil soup
Split pea soup- blended
Pureed poultry or fish
Any food from previous stages plus:

Eggs: poached, scrambled, egg salad
Canned tuna, salmon, sardines
Canned chicken
Tofu
Whole beans 
Black bean soup
Lentil soup
Any food from previous stages plus…
Chicken
Turkey
Fish
Seafood
Bison
Venison
Beef
Lean Ground Meats: Ground Chicken, Ground Turkey or Ground Beef  
Credible, Professional Advice and Inspiration Delivered to Your Inbox:
Subscribe to Tiny 

Tummy

 Tips Newsletter