Bariatric Green Smoothies
Tiny Tummy Tips, Issue #002 -- Green Smoothies After Bariatric Surgery? YES, YES, YES!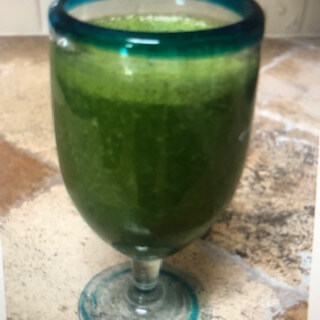 ---
In This Issue
1) Celebrate St Patrick's Day with a REAL green (protein) smoothie

2) The Greatest Spinach Tip EVER

3) How to Make ANY Green Smoothie Recipe Bariatric Friendly

4) Three Easy Go-To Green Protein Smoothie Recipes

5) MY Personal Daily Green Smoothie
---
CELEBRATE ST PATRICKS DAY WITH A REAL GREEN (PROTEIN) SMOOTHIE
It doesn't matter whether you're Irish or not…Who doesn't love to get into the green spirit at least one day a year!

Instead of green beer or a shamrock shake (which is ice cream + artificial dyes and flavors), how about starting a habit of REAL green smoothies this year? Protein green smoothies that is!

If you're already turning green at the thought, I promise they're better than you think! If you've never had a green drink before, now's the perfect time to try.

If you're a green smoothie aficionado, now's the perfect time to mix it up a little and try a variety of greens- mustard greens, arugula (my 2 personal favorites) or even kale. Greens are interchangeable in recipes.
What Is a Green Smoothie?
Let's make sure we're on the same page here with the terminology. When I say green smoothie, I'm suggesting blending greens (with other ingredients, including a protein source), not juicing them.

Blending does not destroy fiber, so smoothies retain the fiber found in vegetables and fruits just as you would eat them in their whole form. However, fiber is lost when juicing. Fiber helps you feel full and stay full. Oh and it keeps you regular ;)
WHY Have a Green Smoothie?
• You hate eating your greens
• You can't seem to find enough room to fit vegetables in your tiny tummy
• You're flat out sick and tired of drinking regular ol' protein shakes and are missing salads and vegetables
• You want some "real food" but still tolerate liquids the best


If any of these sound like you, then blending leafy greens in a smoothie is an easy, seamless way to help you get more produce into your day.
Green PROTEIN Smoothie
And in keeping with the parameters of a bariatric diet…meaning you need to get your protein in…adding a protein source to your green smoothie is a MUST.
Start with Spinach
Let SPINACH be the key green ingredient in your St Patrick's Day celebration. If you're new to green smoothies, start with spinach. Spinach is so mild in flavor you won't even know it's there except for the fact it will turn your drink green!

(Have skeptical kids? Tell them it's a "martian drink" to get them onboard).

And you don't need Popeye to tell you spinach is good for you! It's exceptionally high in beta carotene/Vitamin A and particularly high in folacin. It also contains smaller amounts of vitamin C, vitamin E, B6, magnesium, potassium, calcium, iron, manganese, and riboflavin.

All for only ~20 calories for 3 ½ ounces raw (~2 cups).
THE GREATEST SPINACH TIP EVER
Freeze raw spinach!

Buy tubs of pre-washed spinach (saves time). Transfer contents to freezer quality bags and freeze. Add a handful or two to smoothies when it comes time.

Why is this the greatest tip ever? It eliminates potential waste, makes smoothie time go fast, and adds cold/thickness to your shake.
MAKE ANY GREEN SMOOTHIE RECIPE BARIATRIC FRIENDLY
You can find millions of "green smoothie" recipes online with a simple search.

If necessary, modify any smoothie recipe so that it's bariatric friendly, by keeping these tips in mind.

Limit Smoothie Base To:
• Water (for zero calories)
• Nonfat/lowfat milk or plain nonfat Greek yogurt (for added protein)
• Unsweetened nondairy milk (for creaminess, but is low in protein)
Avoid: Fruit juices

Include a Protein Source:
• Plain nonfat Greek yogurt
• Fairlife "high protein" milk
• Protein powder
• Tofu
• Ready to drink protein drink


Ultimately Include More Greens than Fruit
Note: If you're new to the idea of green smoothies and feeling a little hesitant, start with just ½ cup spinach at first. You can slowly increase the amount over time as your tastebuds and brain adjust to the idea of it!
3 EASY GO-TO GREEN PROTEIN SMOOTHIE RECIPES
Sneaky Chef Green Smoothie:
If you already have a ready-made protein drink you know you like (vanilla Premier or vanilla Rockin' Protein for example), start with that.

Add your premade protein shake to a blender, throw in a small handful of frozen spinach (1/2 cup if this is new for you) and blend.

Optional add ins: Add extracts like vanilla or mint, small amount of fruit like ½ frozen banana, spices like gingerroot, or 2T powdered peanut butter.
Top O' the Morning to Ya Green Protein Smoothie
• 1 cup milk of choice- nonfat/lowfat dairy or nondairy milk (or use ½ milk and ½ plain nonfat Greek yogurt) or water
• 1-2 cups frozen spinach
• 1 scoop vanilla protein powder
• 1/2 frozen banana
• ¼ avocado
Optional Add In: 5 fresh mint leaves

Blend until smooth.
Green PB Protein Smoothie
• 1/2 cup milk of choice- nonfat/lowfat dairy or nondairy milk
• 1/2 cup plain nonfat Greek yogurt
• 2 handfuls of spinach
• 2 Tablespoons powdered peanut butter
• ½ frozen banana


Blend until smooth.
MY PERSONAL DAILY GREEN SMOOTHIE
I drink this almost every single day (Makes 2 servings):
• 1 cup water
• 3-4 cups of greens: Power green mix, arugula, and mustard greens
• 1 serving vanilla protein powder
• 2 Persian cucumbers
• ½ banana
• Large chunk of ginger root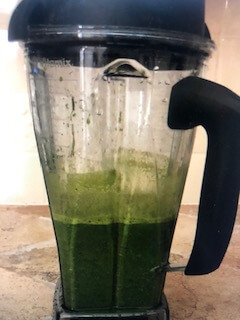 Note: If you're early out of surgery, this will probably be too much volume to drink.

So pour it in ice cube trays and freeze, and then simply blend 1-2 "power green cubes" with a ready made protein drink to boost the nutrition and get a small "fix" of greens.

After all, you're the sum of all the little bits and things you eat and drink over a long period of time, so a couple of cubes of green smoothie over time adds up!

Enjoy!
Pay It Forward
Tiny Tummy Tips Newsletter delivers practical, professional advice and simplifies what to eat after weight loss surgery.

If you like this e-zine, please do a friend (and me) a big favor and "pay it forward" by sending the link or posting on your social media.

If you received this as a forward from a friend, and if you like what you read please subscribe by visiting tiny-tummy-tips.html
Comments? Ideas? Feedback?
I'd love to hear from you! Just reply to this e-zine and tell me what you think!

See you in the next issue!

In Health,

Suzette